Demos:
Description:
Tranzistow is a cross-platform, multitimbral, multithreaded, virtual standalone software synthesizer created and maintained by HrastProgrammer. It comes in 32-bit and 64-bit architecture flavors for linux operating systems. It is offered as "mandatory donationware" so please do consider making a (minimum €50) donation to the developer (via PayPal at the Tranzistow webpage link provided below) if you use this synth as a primary instrument in your set-up. Considering the capabilities of this very ambitious instrument, it would seem very well worth the money, imho.

Tranzistow is a mono/polyphonic (up to 128 voice) synthesizer with additive, spectral, virtual analog, formant, wavetable and FM-synthesis capabilities. It includes 8 independent multimode parts and includes a host of other features including ring modulation, oscillator sync, waveshaping, a variety of filters, including 6dB to 24dB Transistor Ladder filters with configurable poles. It provides drawable contour generators and a very nice FX section.

Tranzistow provides 4 antialiased main oscillators and 4 auxillary oscillators, all which can sync to themselves. In addition to the standard waveforms, these can also be switched to sine waves or supersaw waves. A variety of modulation possibilities are included, as well as vector mixing control. There are two sets of four LFO's and two sets of four, 10-stage Envelope Generators. Each multimode part also includes an arpeggiator.

Tranzistow comes with almost 3,900 presets provided which were created by the developer. (Additional, third-party preset packages are available in the Tranzistow.pdf document link below.) For more in-depth info and specifications please consult the user guide in the link below.

Patches:
Manual and Website:
A useful starter's guide for Tranzistow at HrastProgrammer.com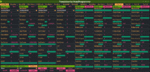 Tranzistow at HrastProgrammer.com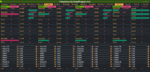 HOME